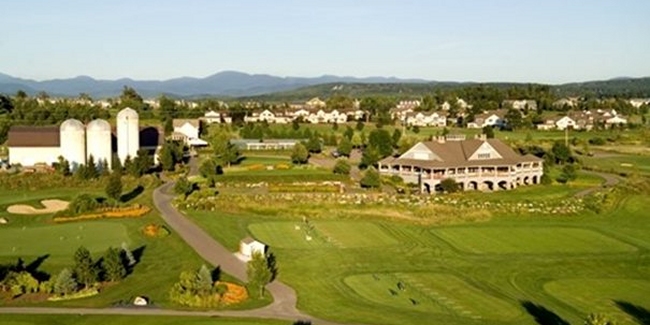 Golf is Victorious in Vermont
Vermont National, Green Mountain National, and Stowe Mountain Resort are Three of the State's Finest Destinations
By Glen Turk
The famed musical "The Sound of Music," that has ties to Vermont only had it half right when the Von Trapp Family proclaimed, "The Hills are Alive with the Sound of Music." After a five day trip to the Green Mountain state in the heart of an autumnal explosion of colors and vistas, that phrase can be altered to read: "The Hills are Alive with Golf Courses."

Where Vermont may not be lined with golf courses like Midwesterners are used to, the maple syrup capital of the world instead overflows with unabashed quality. I must say you won't be "tapped out" of great golf options no matter what part of the state you travel to. That's mainly due to the fact Vermont is only 160 miles long by 80 miles wide. But Vermont is a state you have to take your time in. First, there are so many non-golf related activities to enjoy, and secondly, it's hard to go faster than 50 mph safely when most roads are winding their way up, down, over and around mountain ranges. In fact, please view the graphic entitled "Top Attractions in Vermont" on page -- for an exciting list of to-do's when you're not on the course.

Day one featured a superbly routine flight into Vermont's Capitol city of Burlington. The cozy airport and friendly folks at the nearby Thrifty Rent-A-Car made checking in a breeze. The Ford Fusion they supplied me with was so sharp I was able to turn the curvy roads of Vermont into my personal race track. Throw in an ultra-cool XM satellite radio complete with the WTMJ version of the Green Bay Packers broadcast and I felt I never left home.

Roughly 10 minutes south of the airport is Vermont National, a Jack Nicklaus/Jack Nicklaus II design that opened to the public in 1998. The 7035 yard layout is a skillful mix of links style holes with a few tree lined gems peppered in for fun. The front nine is almost exclusively links with the 3rd and 8th holes being the best of the best. The 227 yard par-3 8th features a tee box that cleverly hides the putting surface and makes birdie an illogical proposition.

The back nine opens with a four hole stretch that is magnificently appealing. Two par-4's and a thrilling par-5 give way to one of the most secluded par-3's you'll ever see. Head Golf Professional Zack Wyman takes over the description duties from there. "This great stretch starts with #10, which is one of the toughest par-4's you will ever play. The green has numerous tiers, a false front, and a deep bunker guarding the front right portion of the putting surface. Number 11 is a downhill par-5 that measures 607 yards from the tips and seems to play every bit of its yardage, if the wind is right, the fairways are rolling and you can hit a 300+ yard drive!," explained Wyman. "The 12th is another great par-4 with numerous options off the tee depending on the length of second shot you want left.

Your second shot will be over an environmental water hazard to a two-tiered green with a lake just to the left. Finally, the 13th is a classic 191 yard par-3, with a hogs back green that separates it into two greens both with undulations running in every different direction. I can't tell you which one is my favorite, I guess on most days it's the one I didn't make a double bogey on," concluded Wyman. For more information on Vermont National, visit their website at www.vermontnational.com or call (802) 264-9418.

From Vermont National, I headed down scenic highway 7 southeast roughly 90 miles to Killington, VT, home of The Inn of the Six Mountains. Whether you're a golfer or skier, The Inn has got you covered with phenomenal year-round Stay and Play Packages. Their stay and play packages that include a round at the incomparable Green Mountain National GC or Killington GC can not be beat. Neither can their complimentary continental breakfast I wolfed down every morning.

As the number one ranked public golf course in Vermont according to Golf Digest, I knew Green Mountain National had a lot to live up to. After four hours of one of the most enjoyable rounds in recent memory, my expectations were blown away. Simply stated, Green Mountain National's setting is so perfect it must have been taken straight out of a best-selling novel. And at no time is it more brilliant than the end of September or early October, the heart of their fall season. Hopefully the pictures provided offer a glimpse into this unique golf experience. Dave Honeywell, the Executive Director of the Golf Vermont Tourism Association, offers his thoughts on this one-of-a-kind property. "The Green Mountain National Golf Course has been consistently ranked the top public course in the state. It's characteristics of rolling terrain, manicured conditioning, dramatic elevation changes and panoramic vistas encompass the attraction of many of the Vermont championship and resort courses," stated Honeywell.

What I most enjoyed about the 6589 yard, par 71 masterpiece was that even though the course is tucked in the green mountains of Vermont you never once felt hemmed in while playing it. Generous landing areas and five sets of tees in 400 yard increments make the Gene Bates design playable for all levels. I will mention though that even if you don't play from the tips, make sure to revel in the views elicited from going all the way back. The elevated tee shots on holes #2, #7, #10, #11, #13, #16, #17, and #18 are the lifeblood of this property and must at least be seen if not played.

The back nine at Green Mountain National is ridiculously fun, especially when you factor in all those elevation changes. The par-4 10th plays 423 yards on the scorecard but thanks to a 75 foot drop from tee to fairway it plays closer to 400. You will have to play one extra club on your approach as the fairway rises up the last 100 yards. For more information on Green Mountain National, visit their website at www.gmngc.com or call their pro shop at 1-888-483-4653.

The Vermont trifecta was made complete with a visit to Stowe Mountain Resort. As one of the most celebrated ski lodges in North America, Stowe has a panache for doing things right. Case in point, their brand new Stowe Mountain Club, a 6411 yard behemoth will duel Green Mountain National for the coveted #1 in state honor. Your initial reaction to the last sentence is probably that "6411 yards" and "behemoth" is an oxymoron similar to "Rap Music." All I can say is after you play it you'll get my drift. From the tips there is a 252 yard par-3, a 228 yard par-3, and a 606 yard par-5 - and those aren't even the difficult holes. The imaginative Bobby Cupp design takes full advantage of blind tee shots and uphill mid range par-4's that always play at least two clubs longer. In fact, the architect says the collection of par-4's are his finest - a bold statement to say the least.

The best holes on the property include the previously mentioned 252 yard par-3 4th, which features a collection area in front that will most likely capture 90% of all tee shots. One hole later golfers are surprised with epic views from over 1800 ft above sea level on the 394 yard par-4. Make sure to slow your walk down and take in the dramatic beauty provided by mountain golf at its finest. Director of Golf Dave Bennett obviously loves all 18 but selects the 495 yard par-5 9th as his go-to hole. "The 9th hole is a dramatic risk/reward downhill par-5. From the tee you can blast a drive that hangs up in the backdrop off Mount Mansfield. If the drive is hit well the player can take a chance at going for the green in two. The hole sets up like a snow half pipe with mounding helping the player on both sides. It is a great mountain golf hole," stated Bennett.

The inward nine will equally take your breath away, especially the 13th - a 381 yard par-4 that's downhill all the way with a subtle bend to the left down the hill. It is honestly a hole you could sit on all day with a bucket of balls and be in heaven. The 333 yard, par-4 18th is an optimum risk/reward finishing hole - the amount of risk is dependent upon the scores you've shot on the previous 17. If you have nothing to lose, feel free to bomb your driver over Peregrine Lake. Heck if you really get into one, your ball could find the narrow speed slot in front of the green leading to an eagle chip to end your round.

Long before Stowe Mountain Club captured all the accolades, Stowe Mountain was home to the venerable Stowe Country Club. Built in 195- beset rolling hills in the bottom of a mountain valley, Stowe Mountain is the ultimate resort-friendly golf experience. Charming and relaxing are the paramount words to describe the layout on the 6,185 yard, par 72 tract. In a unique design feature, you will not play a par-4 until the 5th hole at Stowe CC. Women do get a glorious advantage here, as 12 of the 18 holes are either par-3's or 5's, making a score in the 80's a distinct possibility on the par-74 layout.

In between playing 36 at Stowe, I highly recommend taking a gondola ride to the top of Mount Mansfield where you can also see New Hampshire's highest point, Mount Washington. Also a reservation must be made at their Solstice Restaurant, as head chef --puts the "fine" in a fine dining experience. To this day, I still marvel at what that man can do with Calamari and Polenta Cakes. And after a hard day living the good life, make sure you are pampered at The Spa at Stowe Mountain Lodge.

Finally, it's important to note that Stowe Mountain Club is a semi-private golf facility and access to the course is available if you stay at Stowe Mountain Lodge. For more information on Stay and Play packages and to inquire about condominium or membership opportunities, visit www.stowemountainlodge.com or www.stowe.com. With so many memorable year-round activities to enjoy, it's no wonder people who hail from Vail, Colorado say they are from "the Stowe of the west."

For more information and a complete 2010 Guidebook on the top courses and resorts in Vermont please visit the Golf Vermont Tourism Association website at www.golfvt.net or contact their Executive Director, David Honeywell, at dave_golfhouse@madriver.com to help plan your Vermont golf experience.



Top Attractions in Vermont
Ben and Jerry's Ice Cream Factory Tours - www.benjerry.com
Vermont Teddy Bear Factory - www.vermontteddybear.com
Von Trapp Family Lodge (The Sound of Music) - www.trappfamily.com
Quechee Gorge Park - www.quecheegorge.com
Simon Pearce Glass Blowing and Restaurant - www.simonpearce.com
Article Tags: Vermont Golf
Revised: 12/03/2010 - Article Viewed 33,010 Times
About: Glen Turk
---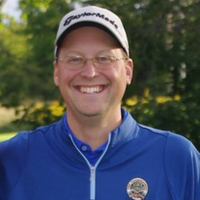 Glen Turk is a Wisconsin native and is the Senior Writer/Editor of Midwest Golfing Magazine. Midwest Golfing Magazine was formerly known as Pub-Links Golfer's Magazine and is a free publication distributed four times per year throughout Wisconsin, Illinois, Michigan, Minnesota, Iowa, Indiana, and Ohio.

His duties at MGM include writing course features, facilitating product testing, and overseeing the overall content and look of the magazine. But clearly his most important task is playing as much golf as his wife allows. Fortunately for him, she plays also and loves out-driving him even with a 60 yard head start.

Glen plays to a 6 handicap but once set a record by having his ball retriever regripped 15 times in one calendar year. It was a December trip to Guam that ultimately did him in. Finally, if you haven't caught on by now, the two most worthy weapons in Glen's writing arsenal are self-deprecating humor and pithy one-liners.

My signature line, "Be A Force on The Course" and now more recently, "Hit 'Em Where They Mow!" can be reused at no charge.

---
More Articles by Glen Turk
More Related Articles